Web & Mobile Application Development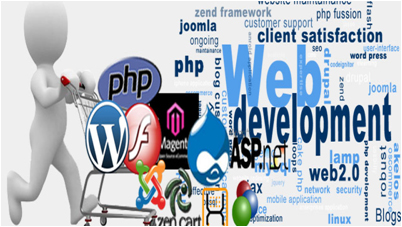 The great potential of Indian Web developer and Mobile Application community has been recognized across the globe. Web and Mobile Applications are playing an important role in world and the low cost developers from India have made their presence felt across the globe.  
Indian web and mobile application developers are competent enough to work in any large level projects and challenging assignments. Small and Medium enterprises across the world have benefitted from Low Cost Web Developers and Mobile Application developers from India, there is a large pool of qualified Developers even in niche skills. Right Step provides to its clients Low cost developers across following technical skills :

Type of Virtual Employees Available
Webmaster
Web Developer
UI / UX Developer
Graphic/Web Designer
Mobile Apps
Android Developer
iOS Developer
Windows Apps Developer
Game Developer
Game Designer
Mobile App Testing Engineer
Logo,2D, 3D designer
Language & Platforms
PHP, Perl, Python, Ruby, Dephi, .Net, ASP, C#, Fox pro, Java, C / C++ / VC++ , VB 6.0 .
Database
Oracle, SQL Server, My SQL, MS Access, Sybase, PPLus, DB2 , ADS, MongoDB.
OSes
Windows Family, Red Hat Linux, Unix, Ubuntu, Sun Solaris, Symbian, Mac, Android.
Application / WebServers
Weblogic, Websphere, JBOSS, IIS, Apache, Resin, Glassfish, Orion, Pramati.
Frameworks
CakePHP, Zend, CodeIgnater, J2EE Struts, Springs, Hibernate, .Net Framework, Kentico CMS Review - NET Curry Cocoa / Cocos2d (iphone), Inity3D, Sencha, Titanium, PhoneGap.
Front-ends
HTML / XML / xHTML , Pro5, Java script, BBJ, CSS, Bootstrap, Asp .net, Ajax, Visual Studio, Jquery, JSP, Jason. Flash, Flex, Laszlo, ExtJS, DOJO, GWT, JMF, SIF.
Big Data, BI & Reporting
Cognos, Oracle Data warehousing, Business Objects, Netezza, SAS, Crystal Reports, Jasper Reports, VB Reports, Bteq, FastLoad SSRS, Hadoop, Hive.
Development Environment
Edit plus, Eclipse, VS10/12, Sun-one studio, SIF, JRun/Jbuilder, IBM Ratinal AppDev, Aptana Studio, Xcode, Net Beans, QNX Momentics, MS VC++, RSM, RSA, RFT.